The tidal forces of time and opportunity are fickle masters, capable of creating opportunity from nothing, and rendering nothing from great possibility.
Ten years ago this week, I was with the love of my life in the mountains surrounding the Russian River. We were together, and all the world was ours. 3,648 days ago.
3,607 days ago, he died.
One of his best friends and I came together for mutual support. We clung together like two broken foxes to fill the Grimalkin-shaped void in our hearts and to deal with the practicalities of settling his affairs. It evolved slowly into a romantic relationship, and we built a life together, with the best kitty in the world, a warm and happy house, and a small but warm circle of mutual friends. It was an open relationship, carefully not defined.
"We are what we are," we both said. Two foxes, trying to survive in a big, cold world. "I have too much love in my heart for only one person. Everybody is special, in a different kind of way," the fox would repeat, when the subject came up. And it was true; between my shyness and our frequent mutual romantic incompatibility, I did not fit his needs. Our energies were different, but we still had many wonderful romantic trips and times together.
Other romantic interests came and went, mostly for him, but he and I remained steadfastly inseparable… and as long as I could return to his bed and enjoy his intimacy, and as long as we had the little romantic moments we had, I was content, and glad that he was able to find what he needed. There were jealous moments, mostly when I'd feel abandoned, or when I'd feel that I got to deal with the "day to day" work while someone else swooped in and got all the special times, but I was generally at peace, and we all coalesced into a small but fun group.
One year ago, at PAWcon 2016, a newcomer found his way into our little band—an incredible, talented, educated, brilliant polyglot of a coyote. We were all excited to get to know him, and we wondered if he'd join us on our adventures.
He did.
One hundred and thirty days ago, the coyote invited the other fox down to San Diego, where he was studying for the California bar exam, for the fourth of July.
Since the fox was on my travel benefits, it was easy for him to agree.
I was not invited.
One hundred and twenty three days ago, the coyote asked the other fox to be his boyfriend. He wanted a strictly monogamous relationship.
One hundred and twenty one days ago, the other fox came home and asked me what he should do.
Though it broke my heart, I told him he'd be a fool not to pursue it.
I meant it. They are an incredible couple, and I envy each of them the other, and I envy both of them what they have. They are both singular individuals, like Grimalkin was… and singular individuals like that don't come along for everyone, and the chances of two in one lifetime … well, that's a rare thing, indeed.
I have nothing but love and respect for the both of them.
In the intervening hundred and twenty days, however, I have experienced every single emotion I have a name for. I have lost weight from stress. I have had nights where I cried myself to sleep. I have had long nights where I had to lay, sleepless, in a silent house, listening to them in the room above me. I have witnessed a romantic relationship of the sort that I only ever had with Grimalkin … and yet my relationship with Grimalkin was cut short before it could blossom. It was a slow burn, extinguished.
I have tried, with all of my willpower, to put on a happy face when they're together. When they go off and leave me alone.
But I have sensitive ears, and a sensitive, fragile little foxy heart.
Every failure of my ability to maintain a cheerful disposition has been noted and met with, at best, confusion.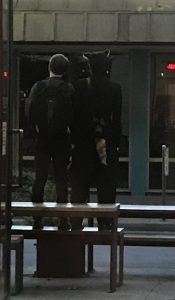 When people are happy, it's impossible to conceive of why someone wouldn't be. It's illogical, after all. It's emotional behavior, and I'd be best served moving on, trying to find someone else. I haven't even completely lost the fox, after all—I still get to live with him. We still have the life we built, the best kitty in the world, and I'm still closer to the otherfox than any person other than the coyote.
I should, in short, the coyote says, set goals and take steps to achieve them.
He is not wrong. The logical, rational side of me understands that and agrees in part, though it also understands the logical, rational basis for the evolutionary and sociological imperatives that drive my emotions. And yet that appeal falls flat to him… and all appeals fall flat to my emotions, themselves, which seem to drive my senses and feelings.
I've been completely open about all of this to both of them. I have also made it clear that I will not take the fox back, and that I will leave before I damage their relationship at all. And it's true.
But the pain is unrelenting.
I explain this not because I seek pity, and certainly not to point fingers at anyone. There is no fault here. There is no badness here. Nobody has wronged me in any way, and nobody owes me anything.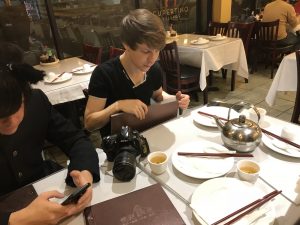 I explain it so that friends can know that if I'm short with them, that it's not them. I explain it so that people will know what's going on with me and my life. I explain it because I need support from a larger circle of friends, because the one person who has been my support now has his energies directed elsewhere… but that is as it should be.
Someone asked me the other day, "What ever happened to the Kysh I knew and loved?"
I gave the only answer I could.
"She died of a broken heart."
-Fox